I am struggling.
The depression floated away a month ago but anxiety happily swept in and took its place.
It has never been this bad before.
It is severe. Complete with panic attacks and heart palpitations.
My body physically feels the fear and reacts to it.
I have always had an issue with anxiety.
But this is worse.
The intrusive thoughts are interrupting the way I function.
They creep up at the most unsuspecting times. Hands shaking. Shivers down my spine. Everyone can hear my heart beating. It is so loud and fast.
I am having a heart attack, I think.
Snap.
I am driving the car. Kids chit-chatting in the back.
I blink and there is a head-on collision. Our car rolls over. My kids are thrown from their car seats.
I am screaming. Broken bones. Dripping in blood. Trying to find my children in the wreckage. Sobbing those guttural sobs that only a mother who has lost everything can find in herself.
Snap.
I come back to reality. I close my eyes tight in the hopes that the car accident wasn't real.
But my brain believes it could happen. It believes that it will.
How am I supposed to live like this? For how long?
At night all is quiet. The day is gone and everyone stops doing. Stops living.
I stay up as late as I can. Avoiding sleep as it is the most frightening part of my 24 hours.
I get in bed. Try to be tired. Then I hear something.
Snap.
It's nothing. It's nothing. You know it's nothing. 
My eyes are wide open staring into the black.
I turn on my right side. I have to face the doorway. If I turn my back something will happen. Something bad.
It is more comfortable to sleep on my left side. But I would rather have neck pain and save myself from whatever is in the house.
Sometimes I can see it happening even though I know it isn't. Even though I am an intelligent person and can decipher reality from fiction.
A man comes in. He shoots us but leaves the kids alive. Landon wakes up to find us. He doesn't understand. But he knows he is hungry. He rummages for food in the pantry. No one knows we have died except for our three-year-old.
Snap.
Why brain? Why are you doing this to me?
I can't do this for the rest of my life. It all feels real. My children will die. I just know it. I feel the pain of losing them every single night.
Someone please take these thoughts away. Make me stop having them. Why am I like this?
I fold into myself. Knees to chin. I hug my legs pulling them close. Fetal position. I shut my eyes as tight as I can. But the tears escape anyway.
I am scared. So very scared to close my eyes. Go away, whoever you are.
Snap.
Does anyone else live like this? Think like this? Am I the only one?
I have more to lose than I ever have.
And to lose those most dear to me. It terrifies me. It paralyzes me.
I have developed rituals to protect myself and my children.
I must check behind every closet door. I must check the window locks.
I must go back into their rooms. Because my brain tells me that if I don't something terrible will happen. I can't be responsible for that.
Snap.
My therapist held out a rubber band last week. Wear it on your wrist, she said. Snap it every time you have negative self-talk. Every time you have an intrusive thought. Every time you have a compulsion to do something just in case.
Snap. I think it's working.
This rubber band has to save me.
I snap so I don't snap.
.
.
.
.
.
Linking up with: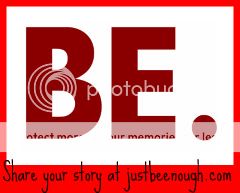 The following two tabs change content below.
Thank you so much for reading. I hope you know how much it means to share a little piece of my heart with you today.